Cengage, a digital learning solutions company, contracted with a small design agency to help them build out first iteration wireframes for their MindTap Math Foundations product. With tablet as the main intended platform, I was called in to help hash out the basic interaction concepts for the platform.
MindTap Math Foundations had to be designed with these key features:
Student and Instructor Dashboards
Integrated Instructional Support
Tools for Enhanced Collaboration
Visual Progress Tracking
Step-by-Step Tutorials
Interactive Videos
Engaging Games Designed to Build Confidence
Course Creation and Management
Reporting and Analytics
Working with a small design team, I worked collaboratively to define these interactions while looking for edge cases which could break proof of concept. I was solely responsible for building the wireframes, which I submitted to the project manager and incorporated necessary edits.
This product is live and a demo can be accessed here: https://www.cengage.com/mindtap/devmathdemo/
Methods & Tools:
Collaborative white boarding to create user flows to define the screens
Microsoft Axure to build out screens
Adobe Acrobat to convert .png screens to .pdf portfolios
Deliverables:
First iteration wireframes designed for a distributed team
Examples of collaborative whiteboards I did with the design team.
Examples of whiteboards cleaned up and translated into final flowchart form. The screens built from these interactions can be viewed in the key interactions below.
Key Interactions
Dashboard Functionality
As I was building these wireframes for several distributed development teams that may or may not be in contact with each other, it was important to reproduce the base page notes and interactions on every page, as I did not know how the screens were going to be divided. It did take extra time but part of best UX practices is to be mindful of the dev team and try to make things easier for them when one can.
Whiteboard Functionality
One of the key features of this learning platform was an interactive whiteboard that allowed real time collaboration between students and teachers. Though the interface is simple there is a lot of dense functionality beneath the surface that had to be designed for.
Sample Game Flow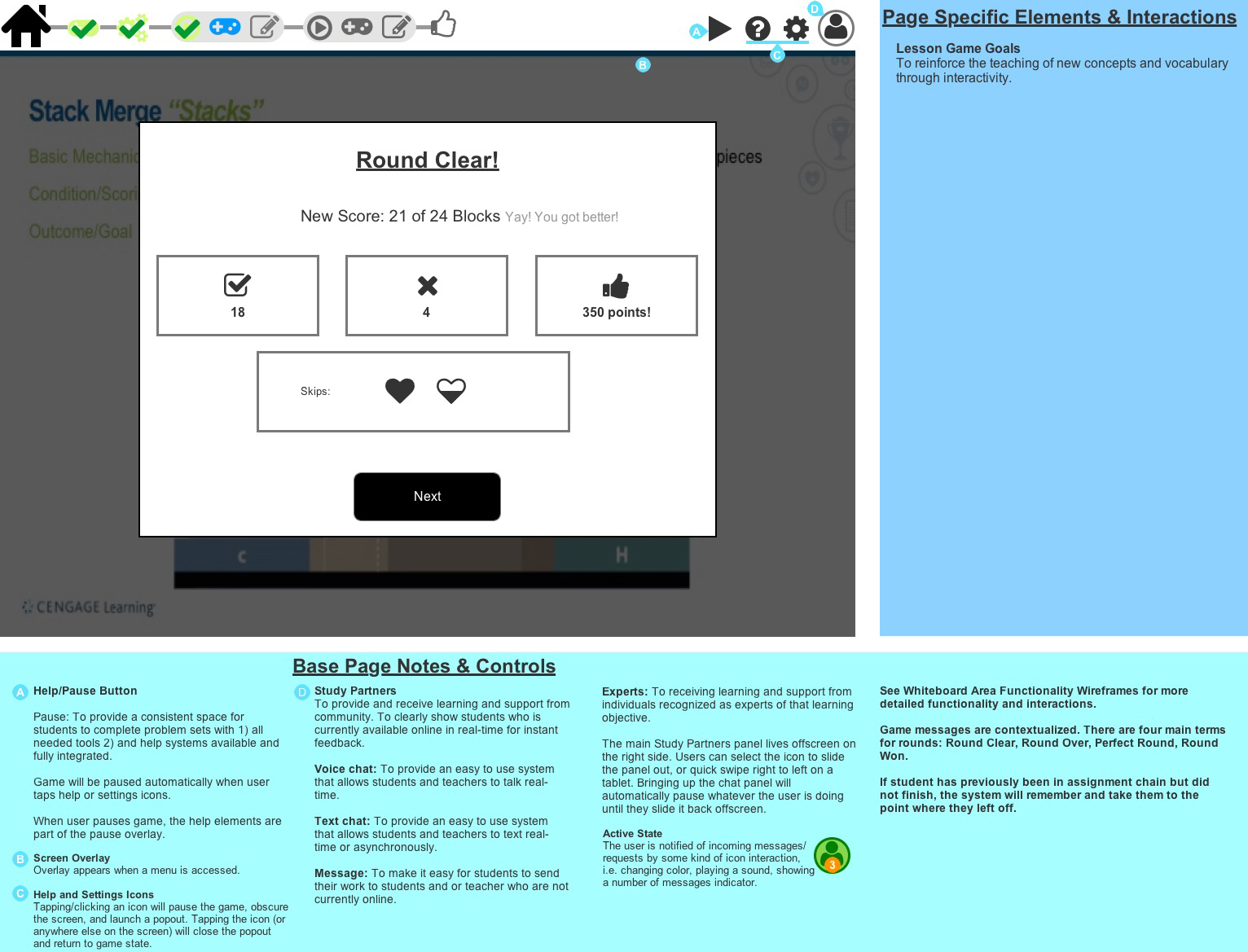 Though the games themselves were designed by another team, the in-between screens were still something I had to design. Here's a typical flow.